Keep Your Feet Safe at the Gym in the New Year
Don't let foot injuries keep you from your fitness resolutions.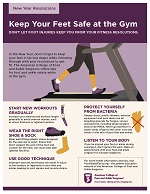 Keep your feet in tip-top shape while following through with your resolutions to get fit. The American College of Foot and Ankle Surgeons offers tips for foot safety while at the gym.
Start new workouts gradually. Increase your stamina and the length of your workouts gradually to avoid overuse injuries, such as stress fractures or tendon strains and sprains. Stretching your muscles before and after workouts also helps prevent these types of injuries. "If you feel you've sprained your ankle, be sure to seek treatment right away," Florida foot and ankle surgeon, Brandi M. Johnson, DPM, FACFAS, explains. "Untreated or repeated ankle sprains may lead to chronic ankle instability, a condition that causes persistent pain and a 'giving way' of the ankle."
Wear the right shoe and sock. Wear well-fitting athletic shoes designed for the exercise or sport. According to Dr. Johnson, shoes that don't support the arch of the foot and provide cushioning for the heel can cause heel pain (plantar fasciitis). Shoes that are too small can also cause a neuroma, or a thickening of the nerve tissue, in the foot and may require injections, medication or physical therapy. Wearing cotton or nonslip socks are also key to help avoid painful blisters, which can become infected and can cause more serious issues.
Use good technique. Improper exercise techniques can result in injury to the tendons or ligaments in your feet and ankles. "Incorrect posture or misuse of exercise equipment can cause decreased stabilization in the foot and ankle, leading to joint sprains and muscle strains," Dr. Johnson says.
Protect yourself from bacteria. Sweaty shoes, public showers, exercise equipment and the pool deck at the gym are breeding grounds for fungus, viruses and bacteria, including drug-resistant strains like MRSA (methicillin-resistant Staphylococcus aureus), which has become increasingly more common. Never go barefoot while in public areas; water shoes can provide a great barrier between your feet and the wet surfaces. "It's also best to cover cuts and cracks in the skin or ingrown toenails since these minor tears in the skin's surface can act as entry points for bacteria. If you have a cut or scrape that becomes red or swollen and is not healing in a timely manner, don't hesitate to see a foot and ankle surgeon for an examination," Dr. Johnson says.
Above all, it's important to listen to your body. If you experience an injury or pain, call your foot and ankle surgeon.
Five Tips For Healthy Holiday Feet
Don't let sore, achy feet ruin your holiday season. The American College of Foot and Ankle Surgeons offers five tips for healthy holiday feet.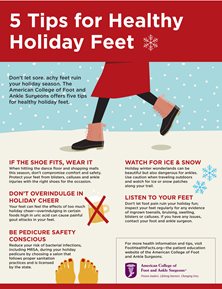 If the shoe fits, wear it.  When hitting the dance floor or the shopping malls during the holiday season, don't compromise comfort and safety when picking the right shoes to wear. Narrow shoes, overly high-heeled ones or shoes that aren't worn very often, such as dress shoes, can irritate feet and lead to blisters, calluses, swelling and even severe ankle injuries. "To ward off problems, choose a shoe that has a low heel and fits your foot in length, width and depth while you are standing," says Tennessee foot and ankle surgeon Christopher Hendrix, DPM, FACFAS. "Be proactive, protective and preventive with your selection of appropriate shoes for the occasion."

Don't overindulge in holiday cheer. Did you know your feet can feel the effects of too much holiday cheer? Certain foods and beverages high in purines, such as shellfish, red meat, red wine and beer can trigger extremely painful gout attacks, a condition when uric acid builds up and crystallizes in and around your joints. "Often, it's the big toe that is affected first since the toe is the coolest part of the body and uric acid is sensitive to temperature changes," Dr. Hendrix says.

Be pedicure-safety conscious. Before you head out for your holiday pedicure, remember nail salons can be a breeding ground for bacteria, including MRSA. To reduce your risk of infection, choose a salon that follows proper sanitation practices and is licensed by the state. Consider also purchasing your own pedicure instruments to bring along to your appointment.

Watch for ice and snow. Holiday winter wonderlands can be beautiful but also dangerous. Use caution when traveling outdoors; watch for ice or snow patches along your trail. The ankle joint can be more vulnerable to serious injury from falling on ice. "Ice accelerates the fall and often causes more severe trauma, because the foot can move in any direction after it slips," Dr. Hendrix explains. If you experience a fall, take a break from activities until you can be seen by a foot and ankle surgeon. Use RICE therapy (Rest, Ice, Compression, and Elevation) to help reduce the pain and control swelling around the injury.

Listen to your feet. Don't let foot pain ruin your holiday fun; inspect your feet regularly for any evidence of ingrown toenails, bruising, swelling, blisters, dry skin or calluses. "If you notice any pain, swelling or signs of problems, make an appointment with your foot and ankle surgeon," Dr. Hendrix says. "Often, especially for people living with diabetes, what may seem like a simple issue can turn into a larger problem if medical care is delayed."
Cold Weather Tips to Protect Your Feet and Ankles
Foot and ankle surgeons provide essential winter safety advice
It is never a good time for a foot or ankle injury, but some might consider the colder months to be the most inconvenient time to have their feet or ankles out of commission. Ironically, it is during the winter when many injuries in the lower extremities occur due to weather-related incidents.
From ankle sprains, to frostbite to broken toes, the damage can vary. However, by taking proper preventive measures, a person can decrease his or her chance of incurring a foot or ankle problem during the colder months, according to the American College of Foot and Ankle Surgeons (ACFAS).
"During the winter months, patients should take extra precaution to keep their feet warm and dry when navigating frigid temps, especially patients who have existing health conditions," said Massachusetts-based foot and ankle surgeon and ACFAS Fellow Member Greg Catalano, DPM, FACFAS.
In general, most people would do best to take the necessary safety steps to avoid foot and ankle injuries in the winter. However, injury prevention for those who have poor circulation, nerve damage caused by neuropathy or Raynaud's phenomenon, which is an extreme sensitivity to coldness, can be paramount.
To help, ACFAS provides three critical and easy-to-follow tips that can mean all the difference between comfort and pain in your feet during the winter.
1. Wear the Right Shoes
"Whether caused by wearing high heels on icy surfaces or just sheer accident, falls are one of the most common causes of weather-related injuries. Wintertime falls often result in an ankle sprain, or worse, a broken bone in the foot, ankle, heel or toe. I encourage patients to wear low-heeled shoes or boots with a traction sole to help prevent slipping," said Dr. Catalano.
Equally important, wearing warm shoes or boots can protect a person's feet in frigid temps. "Wearing water-resistant, insulated footwear serves as a barrier between the feet and outside elements; this is particularly important for patients with neuropathy or Raynaud's phenomenon. While different, both conditions block normal blood flow in the feet and places a person at a greater risk of developing additional problems. In some cases, people can incur chilblains, which are itchy, tender, red patches that emerge in response to cold air, or in extreme cases, frostbite," added Dr. Catalano.
Remember, the thicker the insulation, the greater the protection is between a person's feet and the adverse effects caused by cold weather.
2. Keep Your Feet Dry  
Damp feet can cause cold feet and can be just as harmful.
Wearing moisture-wicking socks will help keep feet dry from internal wetness caused by sweat, while water-resistant footwear will ward off external weather elements that can cause dampness.
"I encourage my patients to wear appropriate socks as a standard practice during the winter months to guard their feet in both foreseen and unexpected inclement weather conditions," said Dr. Catalano.
For some, inserting foot warmers in their shoes serves as an extra layer of protection. Before doing so, it is best to consult with a foot and ankle surgeon. If worn incorrectly, foot warmers can burn the skin and cause severe harm for those with nerve damage.
3. Get the Right Help
With all that can happen to the feet and ankles during the winter months, it is best to know what to do when faced with a condition or injury brought on by cold weather.
"In the case of a suspected fracture or sprain caused by a fall, see a foot and ankle surgeon or visit the emergency room as soon as possible for prompt diagnosis and treatment. If medical care is unavailable, for temporary relief of symptoms, try the RICE principle—Rest, Ice, Compression and Elevation. But remember, delaying treatment can result in long-term complications," added Dr. Catalano.
For feet that are exposed to cold and dampness for a prolonged period, soak them in warm water, avoiding hot water or direct heat. Soaking them in warm water will allow the feet to regain their normal temperature gradually.